In the two night Flash and Arrow crossover event which begins tonight on The CW, we'll see that Cisco Ramon is to the DC live action universe what Phil Coulson has been to the Marvel Universe: A huge fan of everything that he sees. The ultimate fanboy, if you will. We spoke to the actor who plays him, Carlos Valdes, on the carpet for the Flash/Arrow screening to talk a bit about what we can expect.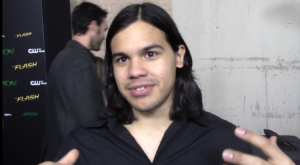 For starters, Cisco has a penchant for naming the Flash villains… might he already have a name in mind for the green guy in the hood?
"The green guy with the hood already has a name, and he's not gonna mess with it. He's the Arrow, and in his mind, it's The Arrow. In all caps. THE ARROW. So, he's not gonna name the Arrow. He already has that name down," Carlos assures.
In Part 2 of the crossover, Cisco gets to fulfill a dream by seeing the Arrow lair, the Foundry. Does Cisco go all fanboy?
"Ohh, yeah. Big time," Carlos promises. "And that's some of the more exciting stuff about this crossover. I'm excited to see how fans react to Cisco being such a fanboy and reacting in wonder at all of this gadgetry, and how Team Arrow does their thing."
Even if we don't see Cisco as Vibe any time soon, might he take on a costume of some sort for protection?
"I think he might," Carlos says. "Cisco loves style. He likes to add styling to his mechanical endeavors. I think he likes functionality, and he likes to top it off with a little sprinkling of funky flair. So, yeah. He wouldn't be above putting on a suit."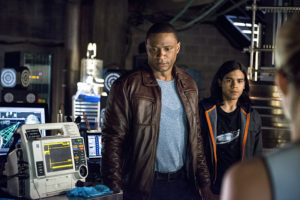 Finally, on a non-crossover note, both Cisco and Caitlin being characters who become major forces in the DC Universe. Does Carlos think Harrison Wells recruited them on purpose?
"Oh. Wow. What a question. I can't say. I can't say because I don't know. The writers are very good about keeping us in the dark, with regards to major events that happen, or major plot twists. I just like being along for the ride, and being a part of the surprises when they come. It's more fun that way," Carlos says.
But first, we have the crossover which begins tonight, and Carlos is excited. "The crossover is huge, and I think it will be huge for fans," he says.
You can watch Carlos' video interview below, complete with a guest appearance by Barry Allen himself, Grant Gustin!