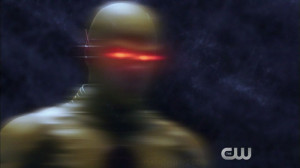 The Flash winter finale "The Man In The Yellow Suit" airs tonight at 8PM on The CW, and we've got a lot of special treats to go with it.
First off, stills from the promo trailer for tonight's show – including the Reverse-Flash!
Our forum is already set up for tonight's episode if you want to join the countdown….
And here are some official photos!
Here's a full list of associated goodies for tonght's show. Enjoy:
Flash Forum – Episode Forum – Countdown/LIVE Thread – Flash Cast Gallery – Episodic Preview Images – Episode Description – Trailer Screencaps – With Reverse-Flash! – Preview Trailers, Images & Clips – Flash Spoilers – FlashTVNews Twitter – FlashTVNews