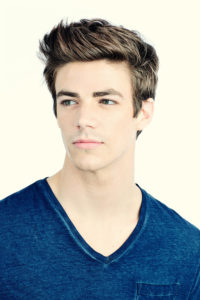 Grant Gustin hasn't even begun filming as Barry Allen/The Flash yet, but the talk of his casting has created quite a bit of discussion, so it's no surprise that E! Online has already asked him about the role when they caught up with him at a recent THR pre-Emmy party. Among other things, Gustin talked about where Barry Allen is in life when we meet him in the eighth episode of Arrow Season 2.
"I know I'm coming on as up-and-coming in my field," he said of where the assistant forensics scientist will be when we first meet him. "He's not going to be The Flash immediately, obviously." Once he becomes the Flash and has his powers, though, Grant assumes that the Flash will have the traditional red costume.
Gustin — who seems well aware that some fans see him as "a little young" — has some hopes for where the Flash role could possibly go. "I didn't realize before I started doing all my research that he can actually time travel, he can run so fast," Gustin explained to E! "I think that'd be a really fun thing to play with on the show is him kind of going to different times and experimenting with that. That'd be fun."
You can read the entire interview, with more quotes from Grant Gustin, at E! Online.
(Thanks to Andy for the tip!)