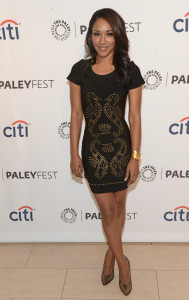 When we spoke with Candice Patton (Iris West) at Comic-Con and the recent TV press tour, only a few episodes of The Flash had been shot… but since then, production has gone through more episodes, including the series' fourth, which features a mini-Arrow crossover as the character of Felicity Smoak (Emily Bett Rickards) visits town.
How does that go down, and how do Iris and Felicity get along?
We got some answers from Candice at the recent PaleyFest Fall Preview for The Flash.
"I think it's great. I think that she knows how much Barry is friends with Felicity, and I think she wants whatever is best for Barry," Candice tells us, before sharing an added bonus of working with the actress who brings Felicity to life. "It was awesome to work with her. She's a friend of mine, so it was great to have her on our set."
Candice also spoke with us a bit about being in the dark about Barry Allen's secret… and in the process, reveals something else that her character, who is a journalist in the original comic books, will be doing in the show.
"The thing about Iris is, she's super curious and she's super smart, and it doesn't take a lot for her to figure out that things are off. So when we pick up with the show, you'll see that she's constantly trying to figure out what is going on in Central City, who the streak is, who these metahumans are, and she's blogging about it," she says.
The Flash premieres October 7 on The CW. Take a look at video of our interview below: