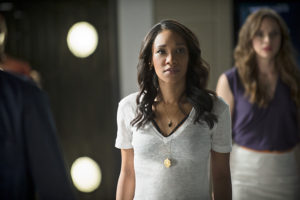 It's been revealed that "Girls Night Out" may or may not be Iris West's bachelorette party… and now, EW is reporting that won't be the only time we'll see some female friendships developing in The Flash Season 4.
"We're definitely going to see Iris' relationship with Caitlin especially developed this season, which we haven't seen before, which will be really nice for fans," Candice Patton told Entertainment Weekly. "Fans have been wanting to see more female dynamic on the show, and there will definitely be that. They're working closely together. Caitlin has been through so much herself in relationships, and I think if anyone can offer advice, it would be her, so she's there quite often to give Iris advice on her relationship with Barry and how to move forward."
We asked Candice Patton about female friends for Iris ourselves this summer at Comic-Con. You can watch video of that interaction below.