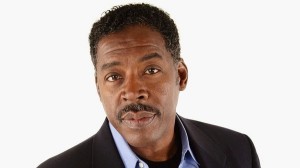 Earlier, a we-knew-it-was-reliable report at Bludhaven Banter suggested that Iris West of Arrow's Flash spin-off would be African-American, and that her father, Detective West, would be a father figure to Barry Allen, having taken him in after his mother was killed and his father was sent to jail.
Today, folks at Superhero Movies News and ComicBook.com have brought attention to a podcast that recently featured Ernie Hudson (Ghostbusters). Titled "Cross The Streams" and posted at GhostbustersNews.com, guest Hudson brought up that he is meeting with the creators of the Flash spin-off next week, and that he has to prepare for it.
When asked about the role he'd be trying out for, he said he was playing "his [Barry's] adoptive dad… or, the dad of…" before cutting himself off. He did mention that Barry Allen's actual dad has a problem.
Ernie Hudson has worked in superhero TV before, having played a role on Heroes in 2009. More importantly, he was the voice of Cyborg in the classic Super Powers Team: Galactic Guardians series. Additionally, he has portrayed voices in the Superman and Batman animated series of the 1990's.
You can listen to the podcast here. We wish Ernie Hudson lots of luck with getting the role!