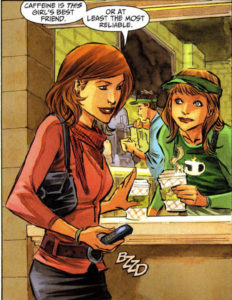 While there's been no confirmation from the studio or the network on this, it appears that Iris West will look a bit different than who we've seen before in the Flash pilot that will be filmed in early 2014.
A site called Bludhaven Banter managed to get a hold of the casting breakdowns for Iris West and Detective West, her father. Iris is described as African-American, between 22 and 28, and "as smart as she is beautiful." Flash's Iris is in grad school studying psychology. The breakdown also refers to her as "Barry's mile a minute, fast-talking, quick-witted best friend" – the one "not-tough" thing in a tough childhood for Barry. Her father, Detective West, took Barry in when his mother was murdered, and she has no idea Barry has feelings beyond friendship for her.
Iris' father, Detective West, is an "honest blue collar cop who's seen it all." Like Barry, he went through the foster system himself, and he believes in Barry and supports his efforts to prove his father's innocence.
You can read the actual breakdowns on that site.
Now, it is quite possible plans could change in the casting process, but considering this site was accurate in the past with Ant-Man casting information, it seems this one is most likely legit. These are the same two roles that had been Tweeted by casting director David Rapaport yesterday.
We posted some of our own Flash casting choices the other day; with this new information, who might our pick be? How about Aeriél Miranda, who played "Piper" on The Tomorrow People a few weeks ago?
Either way, stay tuned as the next few months should have a number of casting announcements — including official ones.