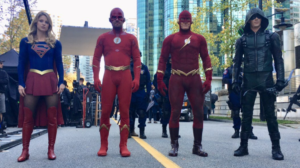 Stephen Amell today Tweeted another photo from this year's "Elseworlds" crossover, in which it seems Oliver Queen is The Flash and Barry Allen is Green Arrow… but today's photo had a super-friend in a very different costume.
Yes, that's John Wesley Shipp wearing his classic suit from the original 1990 Flash TV series.
So if that Barry Allen exists… and the Smallville farm shows up in the crossover… could we get someone like Tom Welling in this year's "Elseworlds" event? Who knows. But we're holding on.
Check out Amell's Tweet below.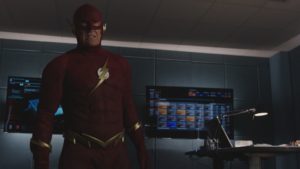 UPDATE: Marc Guggenheim has shared another photo from the crossover, labeling it as "after seven years, this might be the coolest thing we've ever done." As fans of 1990 Flash, we're liable to agree. See Marc's Tweet below also.
This year's DC TV crossover airs in December on The CW.
No big deal. Just working with @JohnWesleyShipp for the first time. Nice of him to dress up for the occasion. pic.twitter.com/twRkwIhilv

— Stephen Amell (@StephenAmell) October 22, 2018
After seven years, this just might be the coolest thing we've ever done…@JohnWesleyShipp pic.twitter.com/mmpac4k5YE

— Marc Guggenheim (@mguggenheim) October 23, 2018