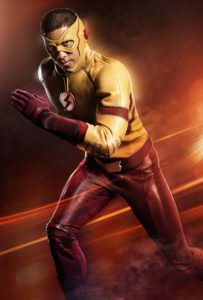 Kid Flash isn't gone from The Flash for good.
While Keiynan Lonsdale himself said at a recent convention appearance that a Crisis on Infinite Earths appearance is apparently not on the agenda, showrunner Eric Wallace confirmed at a recent Q&A that they are soon to contact Lonsdale about returning in the second half of The Flash Season 6 — and are hopeful that it will work out.
"If all goes well, we should be breaking his story the next couple of weeks," Wallace said. "I'm trying my best to get Kid Flash in for a couple, 'cause the story is so good. A little tease is Kid Flash will now meet a classic villain from the classic days from classic comic books. And maybe he'll have to save the Flash's behind, which is what I want to see, 'cause maybe he's not a kid anymore. It's time to grow up."
We'll let you know as soon as there is more information about Keiynan Lonsdale's return to The Flash being set in stone. The Flash Season 6 premieres October 8 on The CW; the second half of the season begins after Crisis on Infinite Earths in 2020.