Deadline is reporting today that Kiana Madeira has been cast in the role of Spencer Young aka "Spin" in The Flash Season 5. She will be introduced in the fourth episode of Season 5 and the role will be recurring.
Here's how the show's take on the character is described; in the comics, Spin is a man:
Madeira's Spencer Young (aka Spin) is a young aspiring social media influencer who seizes the opportunity to make herself famous when she discovers there is a new hero in Central City.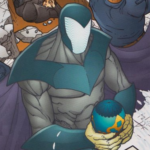 Kiana Madeira's previous credits include Sacred Lies, Dark Matter and Taken.
The Flash Season 5 speeds our way Tuesday, October 9. The upcoming fifth season includes the highly anticipated 100th episode!