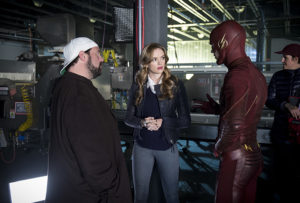 Tonight's Flash episode "Killer Frost" directed by Kevin Smith explores some more of the changes in Caitlin Snow's life… and the whole situation makes us wonder if Caitlin blames Barry Allen for her current predicament, since he created what happened with Flashpont and all.
During a recent visit to The Flash set in Vancouver, we asked actress Danielle Panabaker what she thinks.
"I thought about that, and I asked myself that question," Danielle admits. "The way I sort of see it is this version of Caitlin Snow, this is her life. She doesn't remember Flashpoint, and she doesn't remember that other timeline. So she doesn't know anything else. So I don't really think she's mad at Barry. I think it's fascinating, and also from a scientific perspective I think it's interesting to her, but I don't think she's mad at him about it, because this is all she knows," she explains.
Don't miss The Flash at 8PM ET/PT TONIGHT (November 22) on The CW. Preview images from the episode can be found here and you're all invited to join the countdown on our Flash forum!
UPDATE: We now have video! Enjoy: