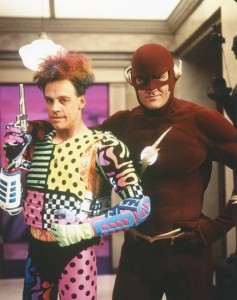 Put this in a "we never thought we'd be typing this" file.
Mark Hamill, who played James Jesse aka The Trickster on the most memorable episodes of the 1990 Flash television series, will be reprising the role.
Alan Sepinwall at HitFix broke the news, which pointed out that Hamill will be in the show's 17th episode. Hamill's casting announcement comes only one day before we see Amanda Pays reprising her original Flash series role as Dr. Tina McGee.
Here's the character description that HitFix posted:
Mark Hamill returns in a brand new interpretation of James Jesse (aka The Trickster), a role he originated on the 90's 'Flash' series.  In this new iteration, The Trickster is an anarchist terrorist con man serving a life sentence in Iron Heights who helps Barry (Grant Gustin) and Det. West (Jesse L. Martin) to foil the city-wide attacks of a wannabe Trickster eagerly following in the original's deadly footsteps.   The episode will reunite him with John Wesley Shipp who went up against him as the original 'Flash' on the CBS version.
Hamill's Trickster surely inspired his later long-running performance as The Joker in Batman: The Animated Series. One episode featured the Trickster and a sidekick called "Prank" who was very Harley Quinn-like.
The trailer for Mark Hamill's most recent big venture, a little something called Star Wars: The Force Awakens, hits theaters in December 2015.