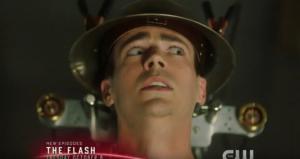 Is Crisis on Infinite Earths coming a bit early to The Flash?
The latest trailer for Season 6 of the series has dialogue almost right out of the classic DC Comics crossover, where Barry (Grant Gustin) says he saw "billions of possible futures." In at least one shot he even appears to be wearing Jay Garrick's helmet, and Nora Allen appears to be… alive?
"I can't stop what's coming," he says.
The Flash is speeding back to our television screens Tuesday, October 6 on The CW. You can find photos from the season premiere and a lot more Flash Season 6 content here at FlashTVNews, so feel free to browse around!