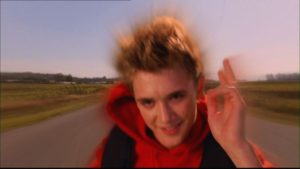 15 years ago today, the show that started it all, Smallville, premiered on The WB Network, which later merged with UPN to become The CW. The series lasted 218 episodes and paved the way for such shows as Arrow and The Flash on The CW network.
In 2004, the Smallville episode "Run" was the first to really bring in a "guest hero" – and while the character Bart Allen later took the code name "Impulse," WB promos called him The Flash.
Unlike John Wesley Shipp and other alums from The Flash TV series of 1990, Kyle Gallner, who currently stars in WGN's Outsiders, hasn't been on The Flash… yet. But his place in Flash history should not be ignored. Maybe sometime?
You can see the Smallville "Run" promo trailer below; some photos from the episode can be found here.