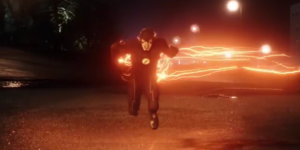 Now that the true identity of Savitar is known on The Flash, The CW has released an epic "sizzle reel" trailer promoting the remaining episodes of The Flash Season 3.
The show is back with new episodes from now to the end of May, and this sizzle reel features a crisis of multiple Barrys, Killer Frost being chilly, and speaking of chilly… Wentworth Miller as Captain Cold. Spoilers for all of these upcoming episodes can be found here.
Enjoy. A new episode of The Flash titled "Cause and Effect" airs Tuesday night on The CW; photos from that episode can be found here.
DRASTIC TIMES CALL FOR DRASTIC MEASURES – Barry (Grant Gustin) takes drastic measures to stop Savitar. Meanwhile, H.R. (Tom Cavanagh) continues to push Tracy Brand (guest star Anne Dudek) to design the trap for Savitar and Killer Frost (Danielle Panabaker) returns with an interesting proposal. David McWhirter directed the episode written by Judalina Neira & Lauren Certo (#321). Original airdate 5/9/2017.