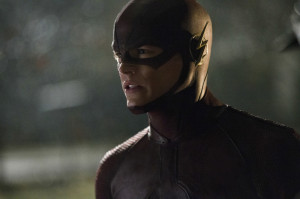 We now have a premiere date for The Flash on The CW — that would be October 7, 2014 in the United States — sorry, we do not yet know international air times — but beyond that, The CW is doing a few more things to spread the word.
For starters, on Wednesday, October 1, The CW will be re-airing the two episodes of Arrow that introduced Barry Allen as played by Grant Gustin. "The Scientist" and "Three Ghosts" will be shown back to back on that night.
The Flash itself will premiere on Tuesday, October 7, but if you miss it, it's airing again October 8, following the Arrow season premiere.
Finally, Flash Episode 2 will also get an encore, airing October 15 after Arrow Episode #3.2.
So, got it? Flash airs Tuesdays at 8PM on The CW, but there are a lot of extra opportunities to catch the speed force. October is going to be exiting!