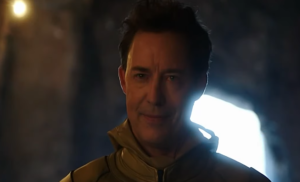 "The Exorcism of Nash Wells" is the title of the March 17 episode of The Flash and after tonight's airing of "Death of the Speed Force" The CW released a trailer!
Here's the official description which doesn't reveal much because The CW surely didn't want to give away the end of the previous episode. Hopefully we'll have some photos soon. Underneath the description you can see the trailer.
A DANGEROUS NEW META HITS CENTRAL CITY – The Flash (Grant Gustin) takes on a dangerous new meta named Sunshine (guest star Natalie Sharp). Cisco (Carlos Valdes) sets out to help Nash (Tom Cavanagh). Eric Dean Seaton directed the episode written by Lauren Barnett & Sterling Gates (#615). Original airdate 3/17/2020.