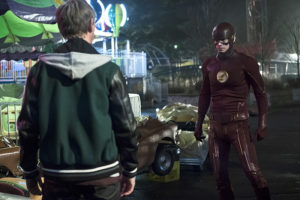 So how did "Back to Normal" do in the ratings?
The episode had a 1.3/5 in the important Ages 18-49 demo, tying ABC's Fresh off the Boat for #2 in the first half hour and actually beating ABC in the demo in the second. Total viewers tell a different story, but the episode still had 3.37 million viewers; a certain "win" for The CW.
What did you think of "Back to Normal?" Come talk about it on our Flash forum!
What's next? Visit the FlashTVNews homepage for some photos and more from next week's show.