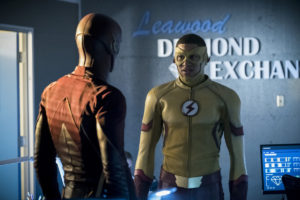 The initial overnight ratings for the first Flash episode of 2017 see the show a little bit down, but hopefully DVR and other factors will bring things back up later.
Right now the numbers have The Flash at 2.68 million viewers for last night and a 0.9/3 in the demo. Still at the top of the pack for The CW and the ratings did bring up Legends of Tomorrow a bit in their new timeslot at 9.
What did you think of "Borrowing Problems From The Future?" Come talk about in on our Flash forum at KSiteTV!