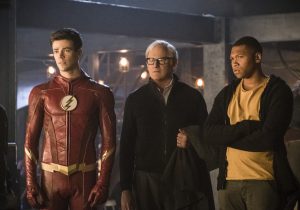 Interesting thing about the ratings for the Flash crossover episode "Crisis on Earth-X, Part 3"…. the initial overnight numbers didn't go up from The Flash's average at all. (They did, however, give DC's Legends of Tomorrow a boost at 9PM.)
We're continuing with our theory that many may have DVR'ed the crossover to watch all in one sitting… in any event, the Flash chapter of the crossover is looking at 2.74 million viewers and a 0.9/4 Ages 18-49 rating in the initial overnight ratings. Final numbers can and will go up once DVR and other things like that are factored in.
What did you think of "Crisis on Earth-X, Part 3?" Come talk about it on our Flash forum!