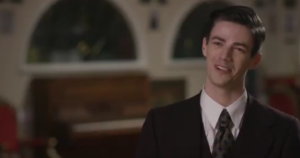 To promote tonight's new episode of The Flash titled "Duet," The CW has released some interview clips in addition to the usual preview clip that we get every week.
So far, the interview clips include Grant Gustin (Barry) and guest stars Melissa Benoist (Kara/Supergirl) and John Barrowman ("Cutter Moran"… you'll understand when you watch it). You can enjoy all of these videos below! Official promotional images for "Duet" can be found here.
Oh, and Darren Criss as Music Meister is in the clip! More "Duet" coverage, including a "Things To Know" post and our own interview with Grant Gustin, can be found here at FlashTVNews.