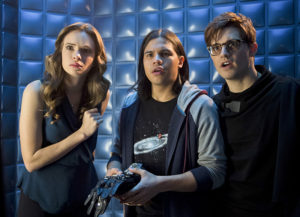 For the overnight ratings, The Flash sped back up from the lows of the most recent new episode.
The initial overnight numbers are in, and The Flash had 3.33 million viewers and a 1.3/5 in the demo. In that Ages 18-49 demographic, The Flash was #2, beating CBS, ABC, and FOX. It is rare for a CW show to do this well, and it's a testament to The Flash's success. The Supergirl crossover probably helped too.
The final numbers will surely go up once DVR and other things are factored in.
What did you think of "Flash Back?" Come talk about it on our Flash forum!