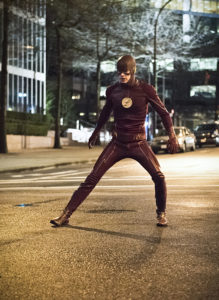 Barry Allen may have had a setback in last night's episode of The Flash but the show itself was a ratings win, beating both FOX and ABC in the important Ages 18-49 demo.
This is quite a feat considering it was on opposite Michael Weatherly's NCIS swan song. Also interesting to note: Although they're not in the same timeslot, The Flash's ratings were much better than those enjoyed by the season finale of Marvel's Agents of S.H.I.E.L.D..
The Flash had 1.3/5 in the Ages 18-49 demo and 3.35 million viewers. Way to go! Now beat the crap out of Zoom already, will ya?
What did you think of "Invincible?" Come talk about it on our Flash forum at KSiteTV!
And if you're curious about what's coming next: Here are some screencaps!