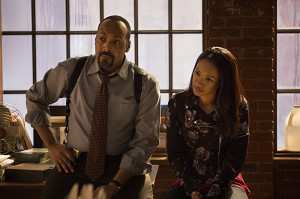 A few weeks ago, the Paley Center for Media in Beverly Hills, California hosted a "PaleyFest Fall Preview" and in attendance alongside Executive Producers Andrew Kreisberg and Greg Berlanti were actors Jesse L. Martin and Candice Patton, who play Joe West and Iris West, respectively.
We'd spoken with Martin before, but this is the first time after more episodes have been filmed. So with that said… is Joe West getting used to the insurgence of metahuman villains in Central City?
"You know what? Every single time, Joe is absolutely stunned by what he's seen," Martin says. "And I like that, because it gives me, as an actor, something to do every week. It's phenomenal to him every single time."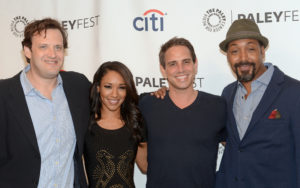 Spoiler warning: Joe West learns early on that Barry is The Flash, and that means he's going to keep a close eye on him. "Almost all the time, yes. I'm keenly interested in what happens to Barry, particularly what happens to Barry as The Flash, because Barry gets in a lot of trouble when he's the Flash. So I have to pay attention. I spend a lot of time at STAR Labs, trying to find out what's going on. I'm not particularly fond or trustful of Harrison Wells, so I keep a very close eye on him. So I'm literally involved in everybody's world," he enthuses.
With that said, there are some people in the world that Joe West hasn't met yet. Case in point: Starling City's green hooded vigilante, the Arrow. "As an actor, I don't know that guy yet," Jesse says. "As Joe West, I don't know that guy yet. So I'll find out when I get there." Joe hasn't met Felicity, either, though he is aware of her. Would he prefer for Barry to end up with someone who is not Iris?
"That's a really good question," Martin says. "I mean, look, I'm super-protective of my daughter, but I'm also very, very aware that this boy grew up loving Iris. So I'll have to come to terms with that at some point, if it comes together."
You can watch our full interview with Jesse L. Martin below: