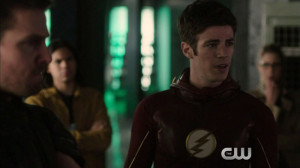 The preview clip for next week's new episode of The Flash features Team Flash and Team Arrow inside the new Arrow lair, as it is part of the two-night Flash/Arrow crossover event — and while they're down there, it looks like they have Hawkman (Falk Henstchel) in chains!
The episode airs December 1, and the clip itself doesn't appear to be available yet, but thanks to Mr. Video, we have screen captures!
We will let you know when the video clip itself is online… but in the meantime, enjoy the screencaps… and if you like them, please link to FlashTVNews rather than copying/pasting elsewhere. Thanks! If you want to see some officially released photos of heroes joining forces, you can find them here.