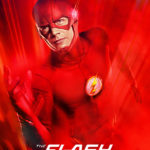 Next Tuesday's episode of The Flash is called "Monster" and a trailer aired on The CW tonight! It looks like a monster stalks Central City!
You can find that trailer below; hopefully we'll have some official photos soon. We do, however, have our recent interview with Danielle Panabaker where she talks about what it was like for Caitlin to finally have a mom on this show!
If you've just finished watching "The New Rogues" and want to talk about it with other fans, come by our Flash forum!