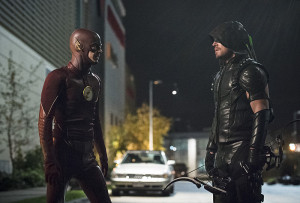 While not as spoilery as the Arrow promo that gives away a major plot point from next week's show, New Zealand has gotten their own crossover trailer for The Flash "Legends of Today," featuring some Oliver Queen and Barry Allen team-up and bickering.
You can see the promo below. For official photos from "Legends of Today," go here. "Legends of Today" airs this Tuesday, December 1 on The CW.
At the time of this writing, The Flash Season 1 Blu-ray is under $20 for Black Friday! Order yours now!