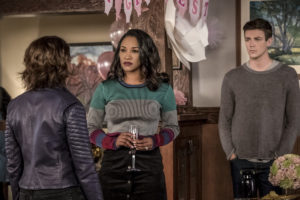 The initial overnight ratings for The Flash season premiere "Nora" are in… and unlike the movies, for once DC beat Marvel at something!
The first numbers for the Flash episode "Nora" see it with 2.06 million viewers and a 0.8/3 in the Ages 18-49 demographic. In the same timeslot, The Gifted (which is actually also a good show) had a 0.7/2 in the demo and only 2.05 million viewers.
Final numbers can and will improve once DVR and other things are factored in, but for now, at least, DC won this round. Shway!
If you've seen the Flash season premiere and want to talk about it with other fans, speed on over to our discussion forum for the show!