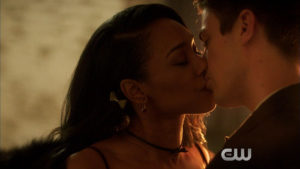 The CW has released a trailer for next week's episode of The Flash and we have screen captures thanks to Mr. Video!
The episode is called "The Present" and hopefully you saw the officially-released episodes including guest stars John Wesley Shipp and Mark Hamill here. You can see the trailer below; underneath that, you can see the screencaps, which include Flashes of two worlds as well as some WestAllen and holiday cheer!
Enjoy, and if you want to talk about tonight's "Invasion!" with other fans, swing by our Flash forum!