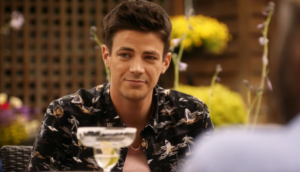 The Flash returns for Season 6 TONIGHT (October 8) at 8PM ET/PT on The CW. The season premiere is called "Into the Void" and you can find all kinds of cool features here at FlashTVNews, including some interview material with new Flash showrunner Eric Wallace.
To get us ready for tonight's show, The CW has released a preview clip for "Into The Void" which you can find below. You can also find an extended trailer for Season 6, for your viewing pleasure.
The Countdown thread is now open on the FlashTVNews discussion forum at KSiteTV and we'd love to have some posters over there! But first, here are those videos, and you can find a description and gallery as well. Enjoy!
SEASON PREMIERE – While Barry (Grant Gustin) and Iris (Candice Patton) deal with the heartbreaking loss of their daughter, Nora, the team faces their greatest threat yet — one that threatens to destroy all of Central City. Meanwhile, Killer Frost (Danielle Panabaker) has a brush with death that results in an unexpected new dynamic that will change her relationship with Caitlin forever. Gregory Smith directed the episode written by Eric Wallace & Kelly Wheeler. Original airdate 10/8/2019.