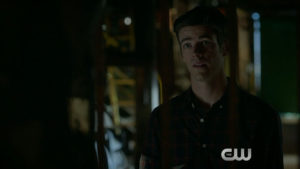 We're not sure that the actual clip is online yet, but thanks to Mr. Video, we have screen captures from a promotional clip from Tuesday's new episode of The Flash, titled "Flashpoint!"
Yes, we said new episode — it's time for the season premiere! October 4 on The CW.
The clip features Matt Letscher's Reverse-Flash/Eobard getting a visit from Barry (Grant Gustin), who comes bearing some Big Belly Burger gifts. But, it looks like all Eobard wants to do is taunt poor Barry… and yes, a lot of these screencaps look dark, because it's a very dark scene.
Enjoy, and we'll post the clip when it surfaces. As always, if you like the screencaps please link to FlashTVNews rather than reproducing elsewhere. Official photos from "Flashpoint" can be found here.
UPDATE: The clip is out now! Find it beneath the screencaps.