No, That Was Not Teddy Sears In The Flash Movie
Flash TV series actor Teddy Sears confirms that was not him playing Jay Garrick in The Flash movie.
SPOILER WARNING: The Warner Bros. Pictures film The Flash is being discussed in this post.
The Flash is currently speeding onto movie screens, and considering the box office, it might be speeding out of theaters just as fast, but there is one particular thing that fans of The Flash TV series have been wondering: Did we see a cameo of Teddy Sears as Jay Garrick in The Flash movie?
The answer is: No. TVLine did their due diligence in finding out from Sears himself what is going on.
"People kept telling me that I was in the new Flash movie…," Sears told TVLine in an article posted on their website. "I mean, I'm sleep-deprived with a newborn at home, so my memory is a little foggy. But I'm pretty sure I would have remembered shooting a major DC Studios film."
"Sadly, I'm not in this," he continued. He did acknowledge that the likeness does look like him.
There are some other cameos – sadly, not Grant Gustin or John Wesley Shipp, either. The movie is currently playing in theaters worldwide. As for Teddy Sears? Look for him in the DC Animated feature Justice League: Warworld where he will voice Travis Morgan, a.k.a. The Warlord. That comes out in July.
With The Multiverse In Danger, Is Stephen Amell In The Flash Movie?
Stephen Amell will apparently not be showing up as The Spectre in The Flash film.
The most recent episode of The Flash titled "It's My Party And I'll Die If I Want To" implied that Oliver Queen/The Spectre could resurface if and when the multiverse is in danger… and the upcoming Flash movie starring Ezra Miller seems like it would be the perfect place for that to happen. However, when we asked Stephen Amell about the possibility in our recent interview, he revealed he had not been approached.
"Not that I know of, man," Stephen said when asked if we'd be seeing him in The Flash film. "I've never had a single conversation with anyone in the film department there, ever," he said, however mentioning he has a general conversation with a previous Warner Bros. regime about "film stuff" in 2013 or 2014, and "that's it."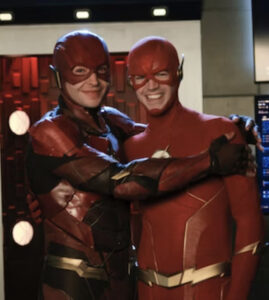 This lack of tie-in also coincides with reports that apparently, Grant Gustin is not in The Flash film either, despite TV's Crisis on Infinite Earths featuring a scene between Gustin and Ezra Miller, which would have been a lot of fun to see from another perspective.
The Flash film, which was first announced way back in 2014 after the TV series achieved huge ratings for The CW, is scheduled to hit theaters June 16, only a few weeks after the series wraps.
Video & Photo: See Ezra Miller's Flash From Justice League!
The movie Flash Ezra Miller is seen in a new teaser trailer and photo from Justice League.
Warner Bros. Pictures today released a teaser for Justice League today, featuring some really great moments with Ezra Miller as a very different Flash than the one we see Grant Gustin playing on the TV series every week.
In addition to the teaser, the studio released an image of the assembled Justice League cast — including, of course, Ezra Miller as The Flash.
You can see the teaser and the photo below; click on the photo for a larger look. Justice League hits theaters in 2017. If you're looking for TV show news, stay tuned — the Flash panel is this afternoon!