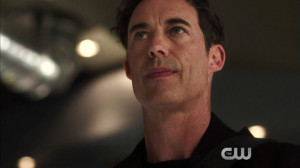 Harrison Wells is back in next week's episode of The Flash, airing on November 3, and thanks to Mr. Video, we have screen captures from the extended promo trailer for the episode, which is called "The Darkness and the Light."
Blink and you'll miss Doctor Light! Which is probably why it's good that we have screencaps, right?
If you want to see the actual promo trailer, you can find it here. We're assuming official promotional images will be available soon. Also, in case you missed it… we talked with Grant Gustin about this other Wells! You can read his interview at KSiteTV.