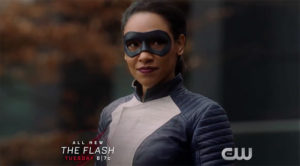 The highly anticipated Flash episode "Run, Iris, Run" airs on The CW Tuesday, March 13 and we have some screen captures from the episode's trailer.
See screen grabs of Candice Patton's Iris West-Allen with powers alongside a powerless Barry (Grant Gustin) below…. they're great if you're unable to follow along at super speed. But first, a description for the episode:

IRIS SUITS UP — Team Flash confront a new bus meta, Matthew AKA Melting Pot (guest star Leonardo Nam), who has the ability to swap people's DNA. During a battle with Team Flash, Matthew accidentally takes Barry's (Grant Gustin) speed away and gives it to Iris (Candice Patton). Now, with a new threat unleashed on Central City, Barry must act as the team leader while Iris takes on the mantle of superhero speedster in order to defeat their new foe. Harry Jierjian directed the episode written by Eric Wallace (#416). Original airdate 3/13/2018.