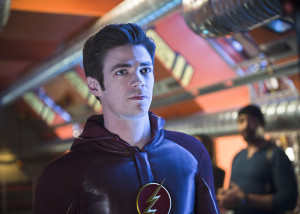 Chances are you've just finished the Flash Season 1 finale, and you're anxious to find out what happens next.
Well… we don't know either!
We'll do our best to get spoilers throughout the summer, so keep visiting the site and our Twitter feed @FlashTVNews for updates.
What we do know is that Eddie Thawne, as played by Rick Cosnett, has indeed departed the show.
As said in an interview with Andrew Kreisberg at Deadline:
"It was there to be done if we decided to go in that direction," Kreisberg said of the character's heroic death. As for how the "difficult decision" to take that direction was made, "the show tells you where it wants to go," Kreisberg said. "Despite how much we adore the character of Eddie and truly adore Rick as a professional and a friend, this was what was best for Eddie and all the other characters, what was best for the show."

Eddie's "stunning, emotionally gut-wrenching" death "brings the show to a high point at the end" of the season, Kreisberg said. "Having someone do the ultimate sacrifice ups the life-and-death stakes." The suicide also punctuates Eddie's storyline with a grand ending. "At the end of the day, he dies knowing he is a hero, he eliminates Eobard from existence."

Eddie's death will reverberate next season. "Eddie was a large part of everyone's life," Kreisberg said. "He and Iris spent a year and a half together, and he died for her. Joe has lost a partner, and Barry has lost a friend. Eddie's death will have a major impact on all of their lives as they cope and figure out how to move forward in Season 2."
However, Tom Cavanagh will somehow be back next year. How? We don't know, but hey, time travel.
In any event, Rick Cosnett and his contributions to The Flash will be missed.
If you'd like to come talk about the season finale, "Fast Enough," drop by our forum, where you can also discuss The Flash all summer!
The Flash Season 1 is already available to pre-order on Blu-ray and DVD (with Amazon honoring any lower price that may come between now and the release date), and from those links you can also purchase past episodes on Amazon Instant Video. The CW plans on re-airing past episodes over the summer, as well.
And beyond that…
A spinoff from The Flash, featuring Martin Stein, Captain Cold, and Heat Wave alongside Arrow favorites like The Atom and Sara Lance and new characters such as Rip Hunter and Hawkgirl is coming, and you may have seen one of those characters from the season finale. The Legends of Tomorrow trailer can be found here; in addition to a dedicated site, you can follow our Legends of Tomorrow Twitter feed @DCLegendsTV.
The Flash Season 2 should premiere in October. The show will continue to air Tuesdays at 8PM on The CW.