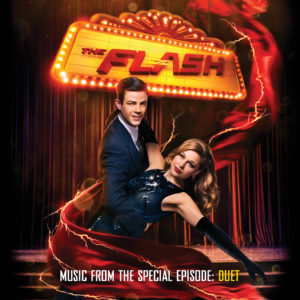 If you loved the music in last night's "Duet," you're in luck: It's all now on iTunes!
Below, find the press release with more details… you can order it for yourself (and support FlashTVNews at the same time!) by ordering through this link.
THE FLASH – MUSIC FROM THE SPECIAL EPISODE: DUET SOUNDTRACK NOW AVAILABLE
SPECIAL MUSICAL CROSSOVER EPISODE FEATURES NEW RECORDINGS PERFORMED THE FLASH STAR GRANT GUSTIN AND SUPERGIRL STAR MELISSA BENOIST, PLUS CAST MEMBERS CARLOS VALDES, JESSE L. MARTIN, VICTOR GARBER, JEREMY JORDAN AND JOHN BARROWMAN FROM WARNER BROS. TV/THE CW's DC SUPER HERO SERIES
FEATURES SONGS CO-WRITTEN BY CRAZY EX-GIRLFRIEND'S RACHEL BLOOM & TOM ROOT; AND LA LA LAND OSCAR® WINNERS BENJ PASEK & JUSTIN PAUL
(MARCH 22, 2017 — LOS ANGELES) — WaterTower Music today released the soundtrack from the special musical episode of The Flash that aired on The CW last night. The album, The Flash – Music From The Special Episode: Duet, features seven tracks from the show, including songs performed by cast members Grant Gustin (Barry Allen/The Flash), Carlos Valdes (Cisco Ramon/Vibe) and Jesse L. Martin (Det. Joe West), along with performances by Supergirl's Melissa Benoist (Kara Danvers/Supergirl) and Jeremy Jordan (Winn Schott), as well as DC's Legends of Tomorrow's Victor Garber (Prof. Martin Stein) and John Barrowman (Malcolm Merlyn). The soundtrack features the song "Super Friend," co-written by Golden Globe winner Rachel Bloom (Crazy Ex-Girlfriend) and Emmy® winner Tom Root (Robot Chicken). The release also features "Runnin' Home To You," which was written by Golden Globe and Academy Award® winners Benj Pasek and Justin Paul (La La Land). The cast performs new music along with renditions of classic songs "Moon River," "Put A Little Love In Your Heart" and "More I Cannot Wish." The collection additionally features musical score by gifted composer Blake Neely (Arrow, The Flash, Supergirl, DC's Legends of Tomorrow).
This musical episode and soundtrack is exciting not only for the Supergirl crossover, but also given Gustin and Benoist's history starring in Glee. This episode pairs them with fellow Glee alum Darren Criss, who plays the villain The Music Meister in this episode. Criss also studied musical theater at the University of Michigan along with The Flash star Carlos Valdes.
The Flash – Music From The Special Episode: Duet is now available on iTunes, and the track list is as follows:
1. "Meet the Music Meister" – Blake Neely
2. "Moon River" – Melissa Benoist
3. "Put a Little Love in Your Heart" – Darren Criss, Jeremy Jordan, Carlos Valdes and John Barrowman
4. "More I Cannot Wish You" – Jesse L. Martin, Victor Garber and John Barrowman
5. "Super Friend" – Grant Gustin and Melissa Benoist
6. "Runnin' Home to You" – Grant Gustin
7. "Runnin' Home to You (Guitar version)" – Grant Gustin
Supergirl airs Mondays at 8/7c on The CW; The Flash airs Tuesdays at 8/7c on The CW; DC's Legends of Tomorrow airs Tuesdays at 9/8c on The CW. All three series are based on DC characters and produced by Berlanti Productions in association with Warner Bros. Television.