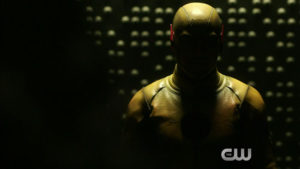 The Flash sped to a tie for #1 in the Ages 18-49 demo and beat FOX and ABC in the overnight ratings for "The Reverse Flash Returns."
The Flash had a 1.4/5 in the demo, tying a NCIS repeat for that first place spot. in total viewers, the show beat both New Girl and Grandfathered on FOX and Fresh Off The Boat and Muppets repeats on ABC.
What did you think of the episode? Come and talk about it on our Flash forum!