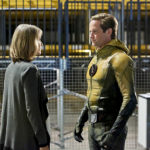 The CW has released a preview clip for tonight's new episode of The Flash, titled "The Reverse Flash Returns."
We especially love this one because Amanda Pays is in it!
Come by our forum to count down to tonight's show (8PM on The CW!) If still photos are more your thing, you can find some officially released images here.