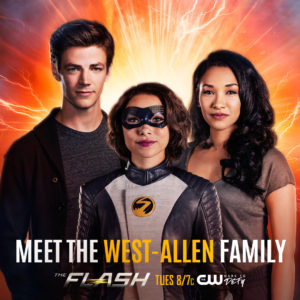 The CW has been on a roll with new Flash Season 5 content today, with photos from the Season 5 premiere "Nora" as well as a new poster featuring Barry and "XS"… now, they've given a wide release to a "WestAllen family portrait" that was put out as an exclusive last week with another shot of Barry, Iris, and their daughter Nora in more casual clothing.
We're not sure if the casual photo has been released before or not… but in any event, here's Grant Gustin as Barry Allen, Candice Patton as Iris West-Allen, and Jessica Parker Kennedy as their newly-arrived daughter from the future… Nora West-Allen a.k.a. "XS."
The fifth season of The Flash premieres October 9 on The CW. You can find both of the new photos below.