The Flash: "Welcome to Earth-2" Ratings Were Out Of This World
Overnight ratings report for the Flash episode "Welcome to Earth-2"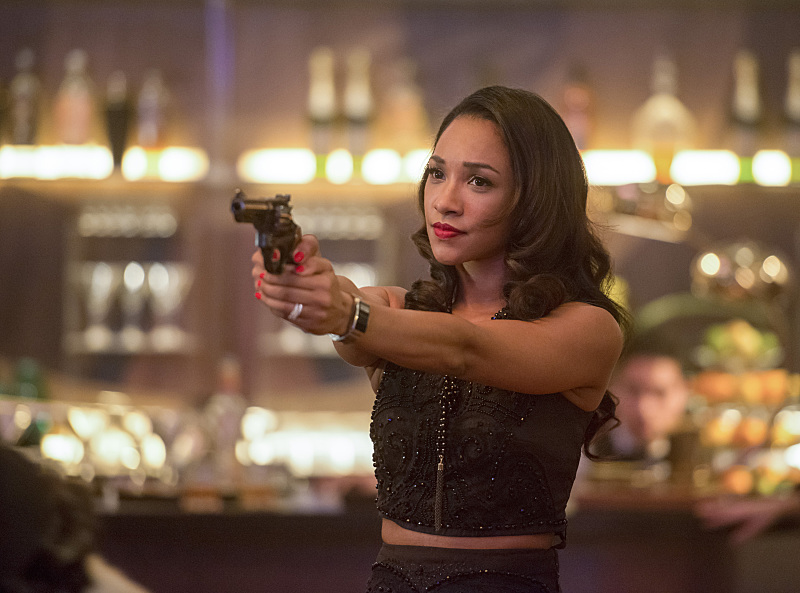 Good news on the overnight ratings front for The Flash!
Quality was rewarded and a LOT of people watched The Flash last night — so much, it was the the biggest rating since December 2014 and the best the show has done in the Ages 18-34 demo since the pilot episode!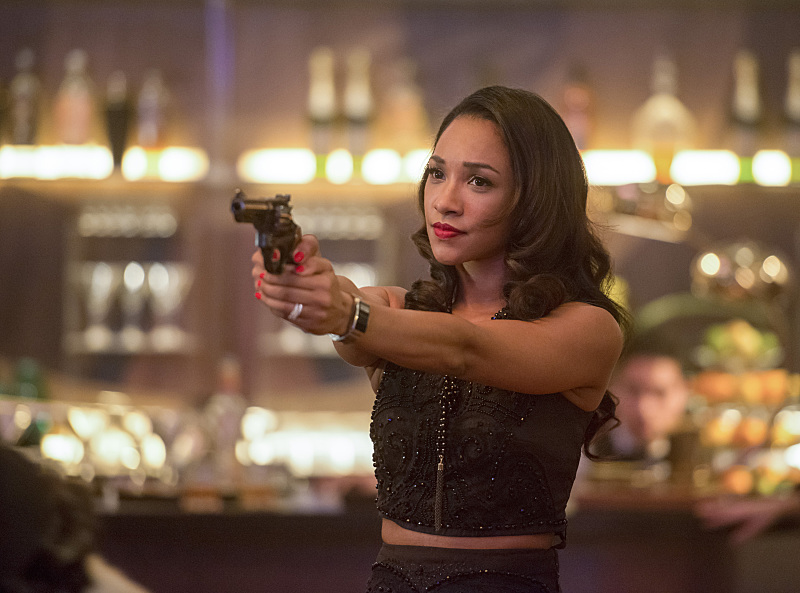 Crazy, right?
The show had nearly 4 million viewers (3.97 to be exact) and a 1.6/5 in the Ages 18-49 demo. Final numbers will surely go up from even that. This means the show beat ABC, NBC, and FOX in the demo, coming behind only NCIS. (Spoiler: Everything usually falls behind NCIS).
Congratulations to everyone involved on a job well done!
What did you think of "Welcome to Earth-2?" Come talk about it on our Flash forum!
Flash Season 7 Premiere Date Revealed
The CW has revealed a premiere date for The Flash Season 7.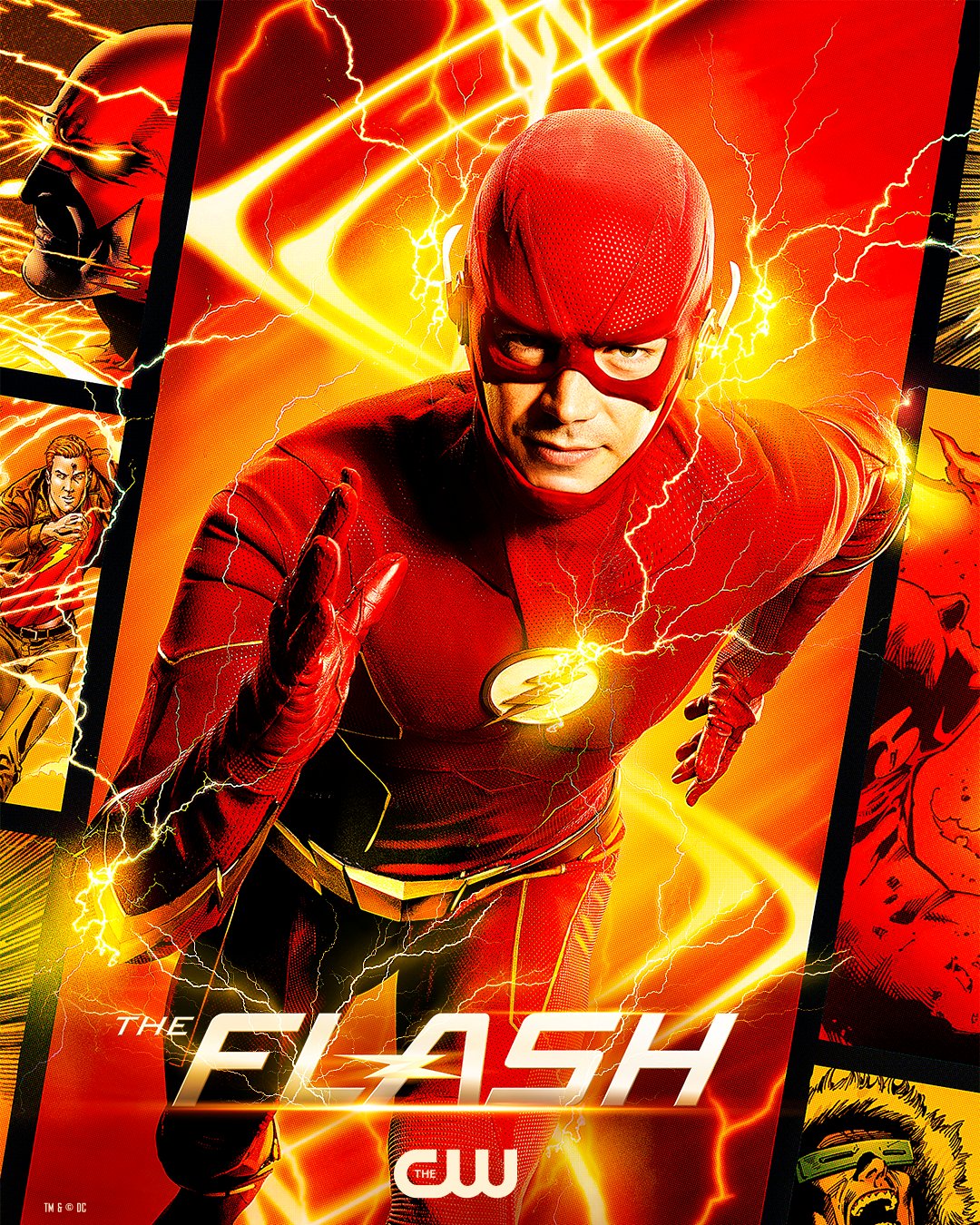 We finally have a date for the return of The Flash as The CW has announced a February 23 return for the Scarlet Speedster!
This may seem a bit late, but look at it this way: We'll have fewer repeats and the show will be paired with the series premiere of Superman & Lois starring Tyler Hoechlin and Elizabeth Tulloch as that other superhero/journalist wife team!
As The Flash Season 7 begins, the show will wrap up the Season 6 storylines that were so rudely interrupted by COVID before taking the Scarlet Speedster (Grant Gustin) on to new journeys.
You can find the full list of CW premiere dates here.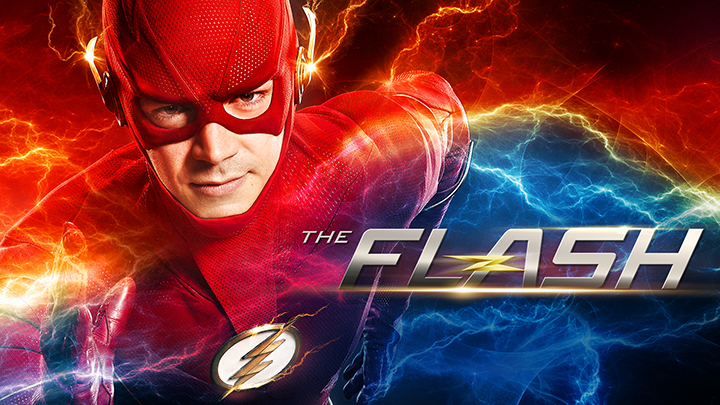 Barry Allen (Grant Gustin) lived a normal life as a perpetually tardy C.S.I. in the Central City Police Department. Barry's life changed forever when the S.T.A.R. Labs Particle Accelerator exploded, creating a dark-matter lightning storm that struck Barry, bestowing him with super- speed and making him the fastest man alive — The Flash.
After a thrilling cliffhanger last season which saw the new Mirror Master (Efrat Dor) victorious and still-at-large in Central City, The Flash must regroup in order to stop her and find a way to make contact with his missing wife, Iris West-Allen (Candice Patton). With help from the rest of Team Flash, which includes superheroes Caitlin Snow (Danielle Panabaker), Cisco Ramon (Carlos Valdes) and Nash Wells (Tom Cavanagh), as well as the Flash's adoptive father Joe West (Jesse L. Martin), Meta-Attorney Cecile Horton (Danielle Nicolet), tough cub reporter Allegra Garcia (Kayla Compton) and brilliant tech-nerd Chester P. Runk (Brandon McKnight)… Flash will ultimately defeat Mirror Master. But in doing so, he'll also unleash an even more powerful and devastating threat on Central City: one that threatens to tear his team—and his marriage—apart.
Based on the characters from DC, THE FLASH is from Bonanza Productions Inc. in association with Berlanti Productions and Warner Bros. Television, with executive producers Greg Berlanti ("Arrow," "Supergirl," "Riverdale"), Eric Wallace ("Teen Wolf," "Eureka") and Sarah Schechter ("Arrow," "Supergirl," "Riverdale").
Blu-ray Review: The Flash: The Complete Sixth Season
Review of The Flash Season 6 Blu-ray set from Warner Bros. Home Entertainment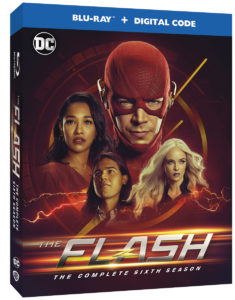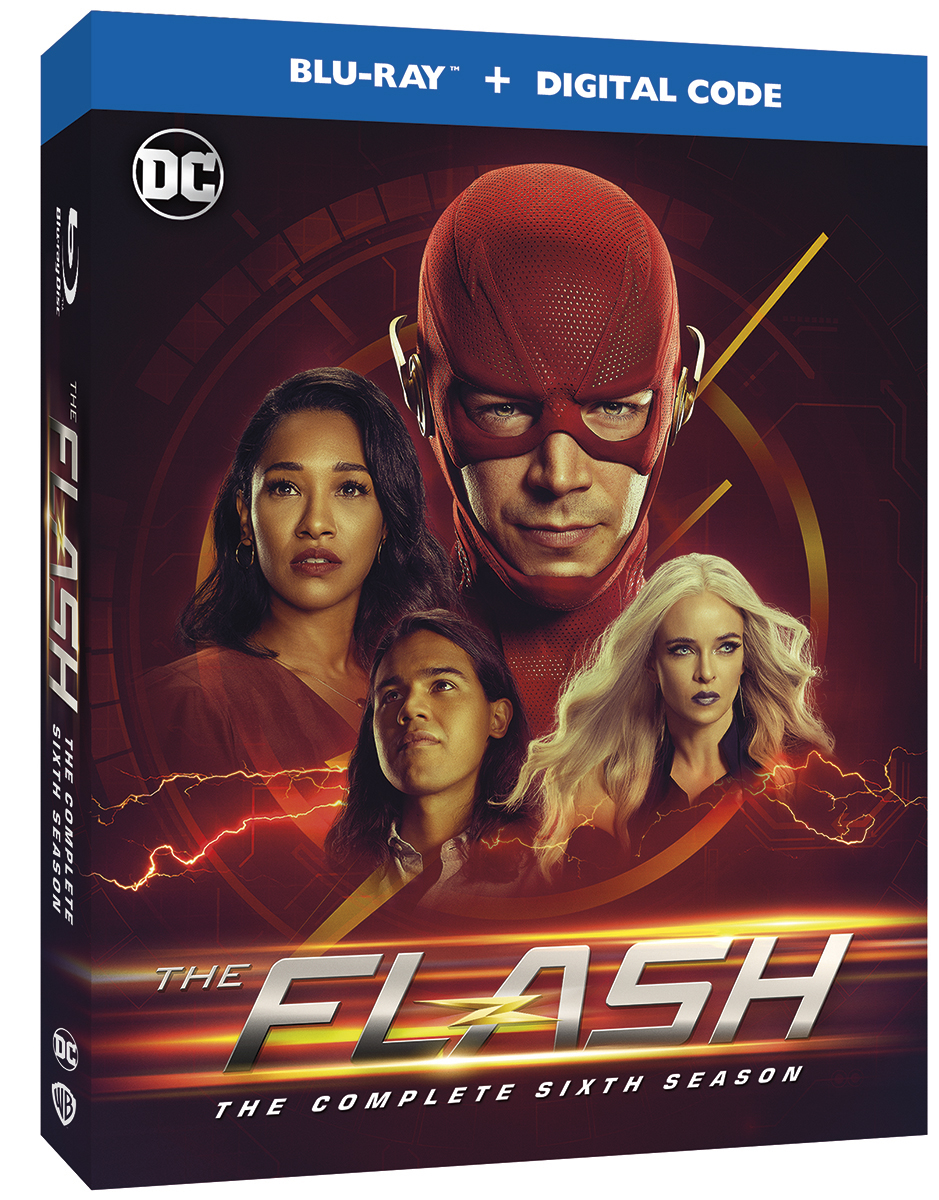 The Flash: The Complete Sixth Season is now available on Blu-ray, DVD, and Digital from Warner Bros. Home Entertainment, and we have been provided with a copy of the set to review on the site!
The set features all 19 episodes of The Flash Season 6 plus extras — the Blu-ray includes all of the Crisis on Infinite Earths crossover!
Here's what's up:
Packaging & Design: Starting with this because it's probably the first thing you'll notice. The box art for this set has changed since the original press release — the fired Hartley Sawyer's Ralph Dibny is no longer on the packaging. While I understand the show distancing themselves — Ralph was indeed an important part of Season 6, with his Sue Dearbon story, and I'm not 100% sure how I think they should have handled it. As it is, it looks odd with just the other four members of Team Flash on it. Though, to be fair, Nash Wells isn't on the cover either.
With that said, The Flash sets usually have some of the best designed packaging and menu art and this set is no exception.
The Episodes: Also seems I am repeating myself but the Blu-ray presentation on The Flash is loads better than what we see on TV and is pretty cinematic. All 19 episodes of Season 6 are here, and — spoiler warning — because of COVID-19, they were cut off at 19 episodes, so that means some storylines aren't completely wrapped. With that said, this season saw Eric Wallace taking over as showrunner, and with him came a new tactic that he referred to as "graphic novels." The first "graphic novel" included the character Bloodwork (Sendhil Ramamurthy) as characters are facing death, and the second, after Crisis, dealt with a new "Mirror Master."
I will say that The Flash under Eric Wallace has a great vision and I love his enthusiasm, which you can actually hear on the "Kiss Kiss Breach Breach" commentary. He's as big of a geek as we are, and I mean that in the absolute best way. The only thing I'd have to say negative about Season 6 is that the mirror storyline has gone on way too long — and I wonder, if they had known all along that we'd end with 19 episodes (an impossibility, because who would?), it might have been a bit shorter.
This "graphic novel" set-up, however, does offer the chance to binge the season in parts, which is pretty cool, and the Blu-ray bonus disc of all of Crisis on Infinite Earths is a good thing to throw in the middle to tee up Graphic Novel #2.
The other thing I will say about Season 6 is that I really liked some of the new characters that are set up. Chester P. Runk, Sue Dearbon, Kamilla, and Allegra — all fun characters that add to rather than detract from the series.
The Extras: The set includes a bonus black and white noir version of "Kiss Kiss Breach Breach" with commentary by Eric Wallace. Commentaries don't happen too often these days, so I'm so glad they put something on this set. There is also a gag reel and deleted scenes. And, of course, all of Crisis which has a lot of great Flash content!
Is It Worth It? If you're a Flash completist or want to see the most recent season in high definition, sure. You might want to start at the very beginning, though. Still, I think The Flash is on its way back to its former glory and Season 6 is the start of that journey. Can't wait for Season 7, and for now, this set will be revisited often.
Get your copy of the Blu-ray from Amazon.com at a discounted price and support FlashTVNews!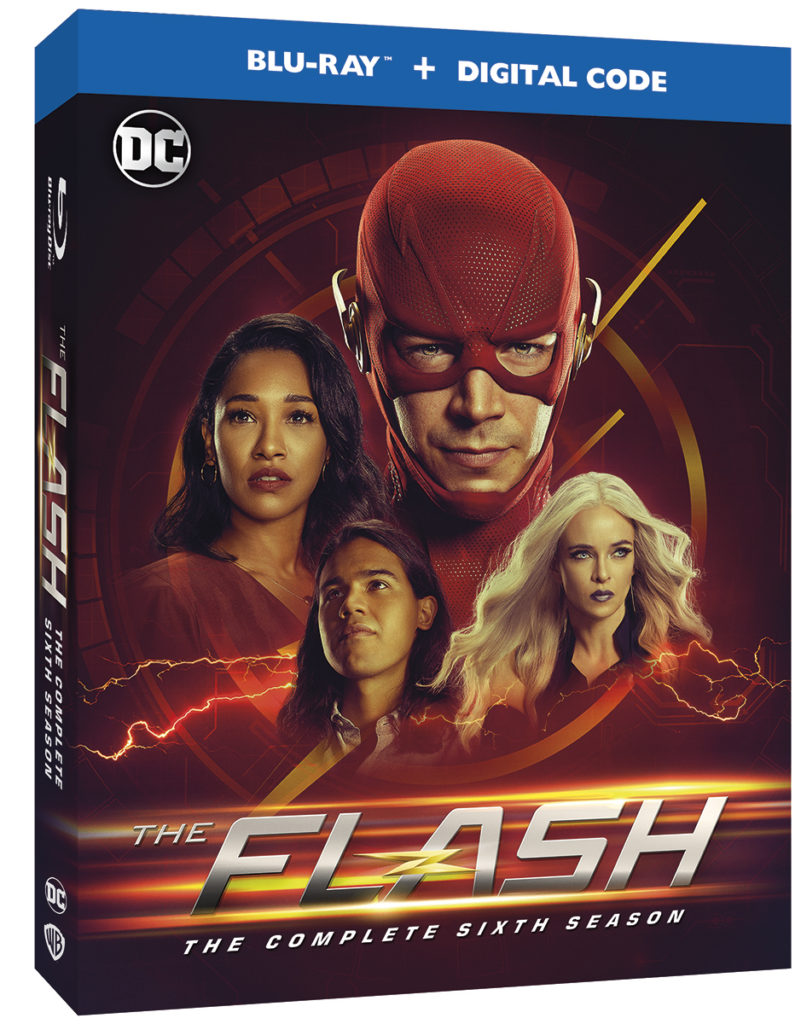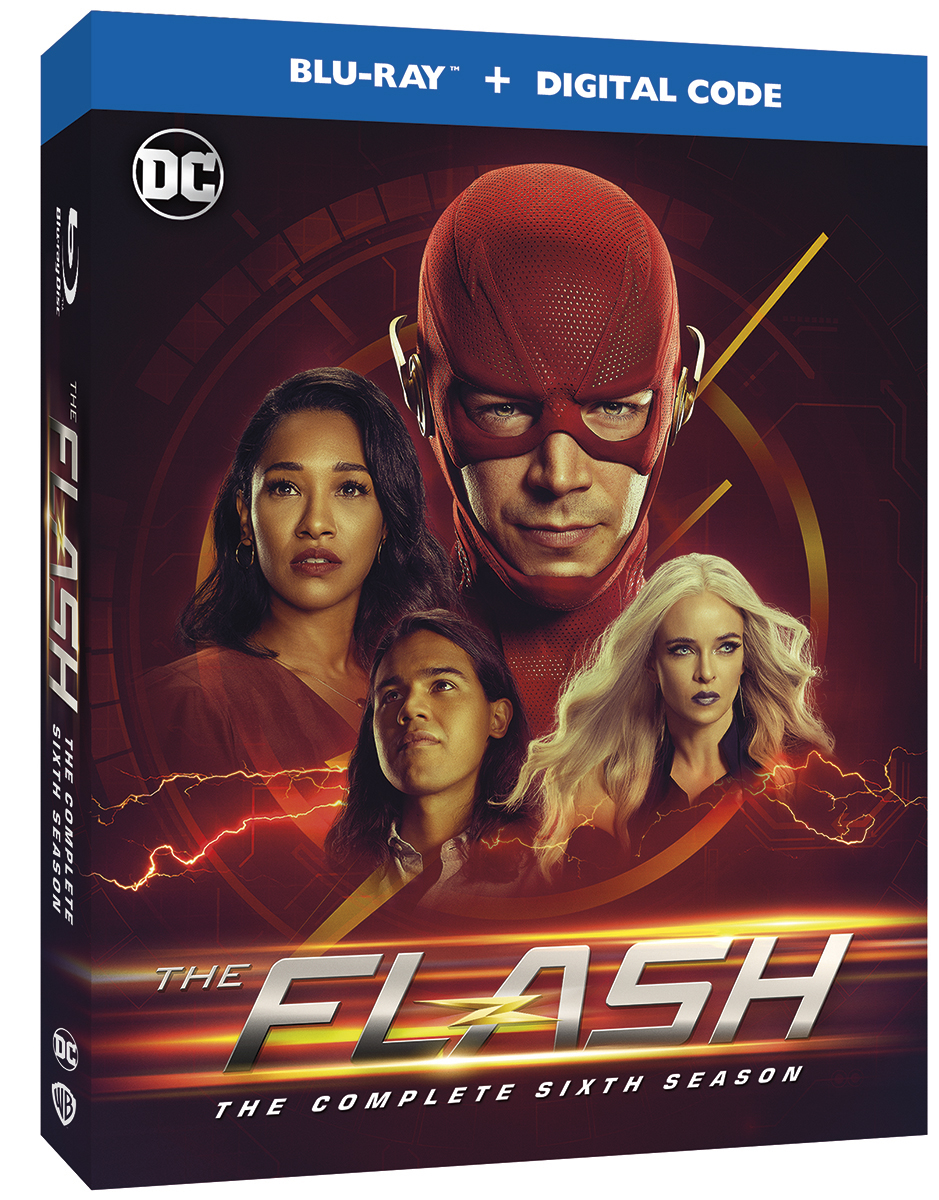 Flash EP Eric Wallace Discusses Ralph Dibny's Future In Season 7
The Flash Executive Producer Eric Wallace spoke with EW about plans for Ralph Dibny in Season 7 now that Hartley Sawyer is no longer part of the series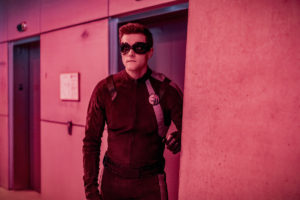 As many may know, The Flash parted ways with actor Hartley Sawyer this summer after some very crude and insensitive Tweets were discovered from the actor's past. Many have wondered about Ralph's future on the show — after all, he's a shape-shifter — and EW managed to get some answers from showrunner Eric Wallace about the future of the Elongated Man in Season 7.
"The beauty of comic book stories and superhero stories are the conventions that heroes come and go, but they never fade away and they never disappear entirely. So we're going to treat it like we would if we were writing a comic book graphic novel. We're giving the Elongated Man a bit of a rest for while. But we will leave the door open," Wallace told EW. "Who knows what the future could bring. It is unknown. But I'm not saying by any means that it's the end of the character, in fact, quite the opposite. We just don't know when he will return, or in what form he will return. And that's the beauty of comic book stories. It keeps it fresh."
Ralph will be a part of the wrap-up of the Sue Dearbon story from Season 6. "Now thank goodness, Ralph is a guy who can change faces and his appearance in many ways. Without giving any spoilers away, there are a couple of ways that we can have Elongated Man still appear in at least one episode this season to wrap that storyline up, that gets us what we need and still allows fans to say goodbye to the character, at least for the indefinite future," Wallace said. "I guess technically it would be a recasting, but the character won't be a big part of season 7. He'll only be a part of just wrapping up the Sue storyline. One could say it is a recasting, but we're going to do it in a way that I think honors the spirit of the character and provides not only a satisfying conclusion to Sue's murder mystery, but also it's done with some humor," he added.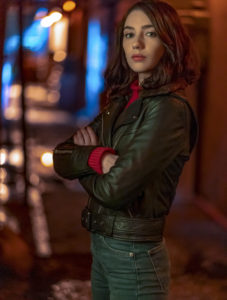 Having to move forward without Hartley Sawyer's Ralph did cause a change in the Season 7 plans.
"There was a whole storyline that involved Ralph with another character in particular going off on a two hander journey — a season-long [arc] that would have involved a whole bunch of twists and turns that would have played into the season's big bad, which I don't want to spoil. And yeah, we can't do that anymore," he said. "However, as is always the case, and this is why I like planning ahead, it turns out to be a situation of some lemons and we made lemonade out of it. We pulled the Elongated Man out of this particular storyline, and the storyline became so much stronger because now it's focused on the other character, [who] I don't want to reveal because it's a surprise."
"For that other character, it became a much more of an emotional journey," he continued. "And this other character I'm referring to is one of our series regulars, so it's going to be very exciting. That particular character now gets to go somewhere that we never imagined they would until many seasons down the line, but we just pulled that up. So I think it's going to be really fun. And it was a good way to, like I said, make an awkward situation into a great opportunity that ends up making Team Flash as a whole, stronger."
And yes, Sue (Natalie Dreyfuss) will still be around regardless of Ralph's fate. You can read all about that in the full EW interview which can be found here.