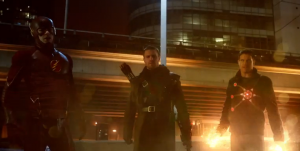 Warner Bros. Television has released the Flash "sizzle reel" that was shown at yesterday's WonderCon convention.
This trailer features a supervillain team-up, our first look at Emily Kinney as Brie Larvin, SnowBarry, more developments with the Reverse-Flash, Arrow visitors Felicity and Ray, Ra's Arrow Ghul, Firestorm, and more! The real endgame is almost here!
New episodes of The Flash begin again Tuesday, April 14 on The CW.