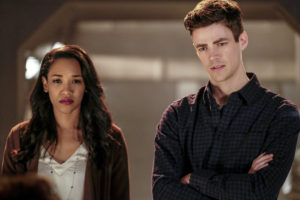 Before they run down the aisle in The Flash Season 4, Barry and Iris may be going somewhere else once they're reunited: Therapy.
In the latest print issue of Entertainment Weekly, Natalie Abrams has some new quotes from Flash Executive Producer Andrew Kreisberg detailing something that will happen once Barry's back from the Speed Force.
"Barry and Iris keep comically clashing because she's used to being in charge, and he's used to being in charge, so they wind up going to couples therapy to work through it," Kreisberg says in the issue which can now be found at newsstands and subscriber inboxes everywhere. "The two of them with the therapist is some of the funniest stuff we have ever done, but it also leads to a deepening of their relationship."
The Flash Season 4 premieres Tuesday, October 10 on The CW.