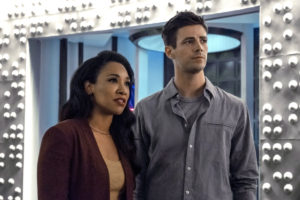 While the character of Iris West-Allen as played by Candice Patton has been a popular one among many Flash fans over the years, many fans have also agreed that her story as a journalist hasn't always been well-served by the series. Thankfully for those fans, new showrunner Eric Wallace is right there with all of them, as it's an issue he himself has been aware of.
"People are going to be ridiculously happy this year, because before I even got here, as a fan, I kept asking myself, 'why is this woman a journalist? I don't understand. She has no staff. She has no office. That's a pretty crappy journalist, you know. Does she work out of her house? Okay. That's kind of cool'," Wallace recalled at a group Q&A hosted by The CW on Thursday. "But we know if from [Episode] 518, that she becomes a Pulitzer Prize winning journalist, and that she has an empire, we need to start building those seeds [and] we need to do it now," he continued.
"So we have very urgently done that this season," Wallace promised. "You will meet her new staff member very soon. I think it's next week, right? Yeah, yeah, the new staff starts in two. Why waste time? Let's just get to it. And that's the first of – depends on how the back season goes, we have a budget, obviously, might be a small staff at first, but it's very much about seeing her take charge of what we refer to as Team Citizen. And they will appear, and they will be getting into trouble, especially in the back half of our [season]. Because now, we have a new way to bring in meta storylines. Her investigations. It doesn't always have to be a bank robber anymore. So it's been a blessing from the story gods."
And as for the other burning question from fans about Iris and her journalism: Will she meet Lois Lane during Crisis on Infinite Earths?
"I'm not going to answer that, but I think you know the answer," he teased. "I'm not saying a word!"
The Flash Season 6 premieres Tuesday, October 8 on The CW. Browse FlashTVNews for preview images and more content here!