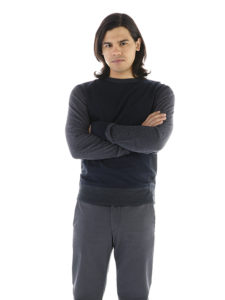 One of The Flash's supporting characters has a bit of a comic book history. The character of Cisco Ramon – back then known as "Paco" Ramon – made his first appearance in comics back in 1984 as part of the "Detroit" team of the Justice League of America. Oh, yeah… and he also had a costumed alter ego, that of the shockwave-producing Vibe.
Vibe has been featured in his own comic book series and also had a few animated shorts in recent times.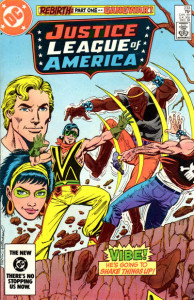 On The Flash, Cisco doesn't have a costumed alter ego (yet), but he does have the super power of creating punny nicknames for the various Rogues that The Flash and friends encounter. "Cisco is a very light-hearted person; a very light-hearted character. He's very much an optimist, a very comic book person with a sort of funky flair. He liked to add some splashes of style to things, and he's also a comic book fanboy. So when these supernatural entities come into their lives, he takes it upon himself to come up with new names for them. Just for reference, you know. And sometimes they're spot-on, and sometimes they're not so good," he explains.
In our video interview, which you can find below, Carlos talks about the "whirlwind" that brought him from theatre to the televised world of The Flash. You also see his reaction upon seeing the first appearance of Vibe from the comic books. Enjoy the interview below, and don't miss The Flash at 8PM TONIGHT!