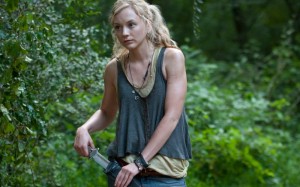 Episode 18 of The Flash will be bringing Ray Palmer and Felicity Smoak from Arrow onto the show, with an episode called "All-Star Team-Up." It had also been revealed that the villain would be Atom foe "The Bug-Eyed Bandit."
But instead of being Bertram Larvan, the character is now female named Brie Larvan, and played by The Walking Dead actress Emily Kinney.
Here's how the CW describes her character:
Brie is a narcissistic tech wizard wreaking havoc in Central City. When Felicity and Ray arrive, Felicity recognizes Brie as her nemesis, and the two women engage in a hacker battle for The Flash's life.
Yep, Felicity Smoak now has a "nemesis." You can read more about the episode here.
Kinney's casting was first tipped by Instagram's Punkd_Images who caught her arriving in Vancouver.