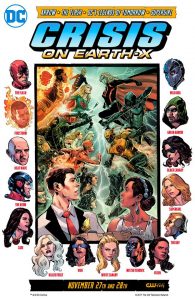 The villains of Earth X are coming and it appears they are around to disrupt the wedding of Barry Allen and Iris West!
Some fantastic artwork by DC Comics' Phil Jimenez was released today to promote the crossover which will air across two nights Monday, November 27 and Tuesday, November 28 on The CW, revealing that with all of the heroes in town to celebrate Barry and Iris's wedding, villains from Earth-X crash the festivities with a deadly agenda.
You can read more about the crossover, which also includes episodes of Arrow, Supergirl, and DC's Legends of Tomorrow, at our general TV news site, KSiteTV.