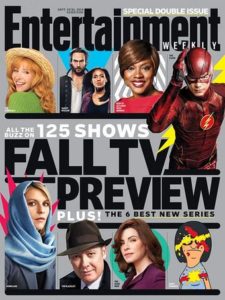 The Fall Preview issue of Entertainment Weekly, which of course features Grant Gustin as The Flash on part of the cover, has a few pages devoted to the new series… but also, there are some photos within.
One of the photos is from some episode beyond the pilot (likely Episode 2?) and it features Grant as Barry Allen in full costume opposite his TV dad, Henry Allen, played by 1990 Flash John Wesley Shipp.
Needless to say, it looks like Henry Allen is going to be in on his son's secret.
Our apologies that this isn't the best scan, but here you go. Thanks to Mark for the scan: