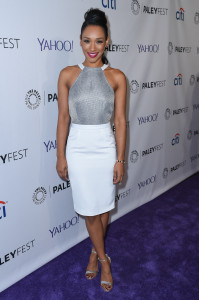 Continuing our run of interviews from the PaleyFest carpet this weekend, we talked to Candice Patton (Iris) about two topics that fans have brought up a lot: WestAllen (the 'ship that pairs Iris West with Barry Allen), and, of course, the notion that Iris has a nephew named Wally out there.
You can watch video below, but if you want transcription, you're in luck.
"There are good hopes in terms of seeing them romantically involved in some capacity. Whether that will last, I won't say," she teases when asked about the Barry/Iris pairing. "It gets complicated for Eddie, obviously. Episode 15 which is airing tomorrow, you will see a double date with Linda and Barry and Iris and Eddie, and that's just extremely awkward. I think any time Iris and Barry are in a room together, there's an electricity that anyone around them can obviously see, and that's a hard thing for your significant other to watch," she says.
Candice also spoke of the evolution of Iris as a character so far… and how it might not have been as quick as some may have wanted. "I know some fans have been frustrated with her not finding out sooner that Barry is The Flash, or her not being involved in STAR Labs, and I defend Iris to my grave. I think it's kind of interesting to see characters on TV who evolve over time and not just in two or three episodes. Iris, it's going to take time to see her become how iconic she is in the comic books, and I think that's cool. I think audiences should appreciate the character evolution over time. I think there's something interesting about that, that we don't see much of anymore," she explains.
Could that future evolution involve her nephew, Wally, best known to comic book fans as "Kid Flash?"
"I want Wally West to appear. I know how beloved Wally West is, and I want him to come on our show more than anything. I think we'll answer a lot of questions about Iris' backstory and her family, possibly in Season 2, which will be very interesting for Iris, and that will be very interesting for me to play, obviously. I'm extremely looking forward to that," she says.
The Flash is new Tuesday night, March 17 on The CW. Come by soon for more interviews!