A new interview with The Flash Executive Producers Andrew Kreisberg and Todd Helbing ran during last night's Vixen event on The CW, and that interview included some discussion about Season 4's villain!
"We've had a speedster villain for the last three years," Kreisberg explained to Tiffany Smith of DC All Access. "So we really wanted to do something different, so this year, The Flash and his team will be up against The Thinker. We're positing it as the World's Fastest Man vs. the World's Fastest Mind."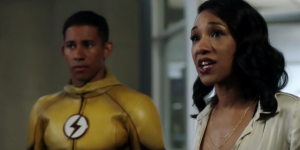 "We tend to think of the Flash as like an athlete, like a runner, and so much of his previous seasons have been about training harder and running faster," Kreisberg continued. "But he's up against a villain this season that he can't outrun. It's somebody that he has to out-think. It's going to take him, and Cisco, and Caitlin, and a few other surprise people to be able to get one step ahead of the Thinker."
Finally, the producers were asked about the fate of Caitlin Snow and her killer, frosty alter ego. "If you're a fan of Killer Frost, you won't be disappointed, and if you're a fan of Caitlin Snow, you won't be disappointed either," Andrew promised.
You can see that video below… but that's not all! The CW also presented a "Super Season" trailer which has several never-before-seen clips from The Flash Season 4. Enjoy both below!