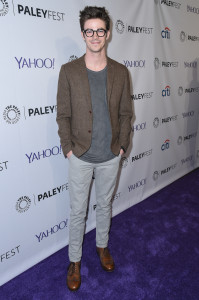 We caught up with Grant Gustin at PaleyFest this weekend and asked him about three very important topics: Harrison Wells, Iris, and the new episode that is airing tonight (March 17) at 8PM on The CW, which is titled "Out of Time."
First off, we asked the loaded question of how Barry learning the truth about Harrison Wells will change that relationship.
"It changes. I mean, obviously, if and when Barry finds out Harrison Wells is who he is, and he had something to do with Barry's mother's murder, it's obviously going to change things drastically, and Barry has to get much better at lying. He can't be as [bad] as lying as he has been the first half of the season, and that's been a fun change to bring to the character," Gustin told us.
As we mentioned, a new episode of The Flash airs tonight. What about is is Grant most excited about? "The whole time travel storyline is really cool, first of all, but also, the visual effects that go along with it… I think that they achieve something special," he said. "It's really cool. I mean, Liam as Weather Wizard, and the tidal wave that he creates? I mean, there's just some amazing visual things in this episode, and the audience is going to learn a lot about some of the characters on the show. The audience will have a lot of new information after Tuesday night."
You can see video of the interview below, including some answers on how the Barry and Iris relationship might change with her investigation of Harrison Wells…
A new episode of The Flash airs TONIGHT at 8PM on The CW. Be sure to subscribe to our YouTube page to get notifications as soon as new interviews are up!